Big Cat Photo and Video Album
Photographic and video evidence
Please send us your comments on the following photos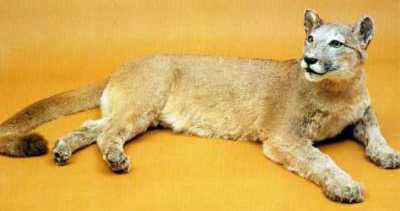 Felicity the puma, who was captured at Cannich near Inverness by Ted Noble in 1980. She can still be seen at the Inverness Museum & Art Gallery.
Video evidence
Video of Carse Wood Cat (nr Ardersier, Nairnshire) July 2003
A promising video, which proved to be of a domestic-sized cat, possibly a Kellas Cat

Patna Images October 1997
Inconclusive
Photographic evidence
Big Cats
Possible attacks on humans
Please note that some of the injuries inflicted, especially the dog-inflicted wounds, may be distressing
Animal Attacks
Big Cat Tracks
Skulls and other evidence
Eriska claw mid 1980s
Claw appears to be from a felid, but there uncertainty as to whether it was from a free-living animal or a mounted specimen

Loch Ness Skull February 1995
Most likely the skull of an ordinary domestic cat or wildcat.

Fowey Skull Bodmin Moor, July 1995
A leopard skull, probably from a leopard skin rug.
Scratching Posts
Bobcat scratching post March 2002
Our mascat, Exmoor gives a practical demonstration

Gouged trees in Moray January 2001
Although these marks now look like gouges, apparently they were much more like scratch marks a year before the photos were taken.
Areas where Big Cats have been sighted